Oktoberfest!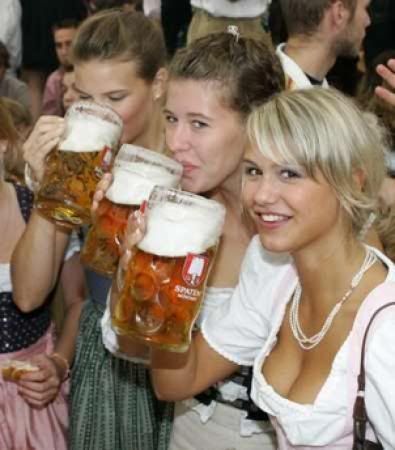 Oktoberfest is upon us and sadly yet another one that I'm enjoying in Munich. This year's is from September 16 to October 3. I'm a little late on it this year, so I'm going to have to get my hands on some of German's finest ASAP.
In the Los Angeles area there are few places to celebrate this occasion. The most popular is
Alpine Village
in Torrance. It's a bit silly and during the day it's family oriented - kinder during oompa dances is definitely in effect. Be sure to pick up a glass (
Maß
) at the giftshop or bring your own or you'll be drinking out of a big plastic cup.
Another spot and one worth checking out year round is the
Red Lion Tavern
in Silver Lake. This is a pretty legit Bavarian restaurant / beer garden. The sausages are crazy delicious as is their beer. They have a fine selection of German favorites and I'm sure they'll roll out the
Märzens
(aka Oktoberfests) for this time of year. A good place to start is with the
Paulaner Oktoberfest
, one of my favorite lagers.
Prost!